Recently there has been an influx of personal breathalyzers or intoxilyzers marketed as a testing device you can use to approximately determine what your BAC may be before you get behind the wheel. We at San Diego Defenders always advocate the "Don't Drink and Drive" policy and to "Drink Responsibly".
We put together a list of these alcohol testers because many clients are inquiring about them. At the Office, we have the actual Alco-sensor 4 and its predecessor Alco-sensor 3 for demonstration purposes only. We also have the "Sniffer" or the flashlight/PAS (Passive Alcohol Screening) device along with several other portable breathalyzers. We know how they work, but we cannot be sure how these recently marketed devices sold online and even at truck stops. As such we warn you to be careful in relying on a device that, for instance, we have no idea how to calibrate.
So, if you purchase one of these devices, and WE DO NOT ENDORSE any of the ones listed, be sure not to rely on their results. They must be properly used, maintained, and first and foremost, tested. We will give you our opinion in the future. For the meantime, feel free to email us your opinion on the accuracy of any model you may use and remember to include the make, model and manufacturer.
Also remember to err on the side of caution. If you feel that the device is reading low – Don't Drive! It is that simple. But let us know how accurate you feel the device is, and maybe we can publish a consensus. Include the manufacturer, so maybe we can also get an idea whose technology is working. It may just be that you get what you pay for, so we try to include the list price. We welcome your input. Be Safe.
AlcoHAWK® PT500 incorporates a fuel-cell sensor, which is not interference from acetone and offers enhanced linear accuracy over traditional sensors. The simple menu-driven operation allows you to quickly screen for the presence of alcohol up to 0.400% BAC. The AlcoHAWK® PT500 features a large, easy-to-read back-lit LCD display. It is the ideal unit for roadside screening, corrections, probation officers, and many other areas of professional testing in which fuel-cell accuracy and reliability is required. http://www.q3i.com/alcohawk_series_pt500.php
BACtrack Keychain Breathalyzer ($29.99)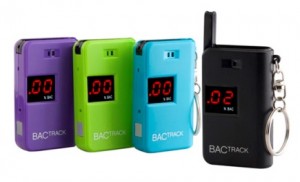 Smallest BACtrack Breathalyzer ever made – small enough to fit inside a purse or pocket and can be used as a keychain. Displays BAC results in easy-to-read 2 digit LED display including, a folding mouthpiece that maximizes portability and ease of use. Wide Test Range – results displayed from 0.00 – 0.40 %BAC. FDA Cleared for personal use. You can quickly and easily estimate your BAC, Blood Alcohol Content, by blowing through the mouthpiece for 5 seconds. http://www.breathalyzer.net/bactrack-keychain-breathalyzer.html?gclid=CJjbg7LWv7sCFSdp7Aod4h4A1w
Alcohol Tester (12.99)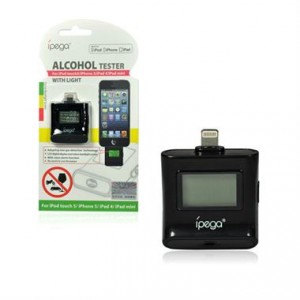 This product is an alcohol tester designed for iPhone iPod iPad, it's small, exquisite and delicate, it's so easy to carry it has a LCD digital display, which can make detection more ocular & more efficient. With unique detector, it can effectively identify cigarettes, coke, coffee smells and prevent non-alcohol gas to interfere the detecting result. Including a voice alarm function, when alcohol content exceeds, the buzzer will alarm automatically alert. No need to use blowpipe, just blow into air hole of the tester, this way is healthy, clean, fast and easy. This product is compatible with Apple iPod, iPhone and iPad.
Smart-Check ($19.99)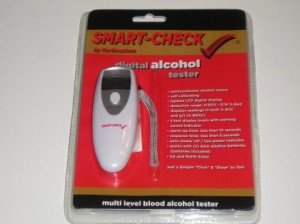 This breathalyzer is fast easy, simple "click" & "blow" that self-calibrates every time you use it under 10 seconds and provides an accurate reading in fewer than 5. The Smart-Check will let you know your Blood Alcohol Content as both a percentage and in grams per liter. The lighted LCD display has a range from 0.00 percent to 0.19 percent. Its small size is perfect for keeping in your pocket, in your purse, or in your glove compartment. http://www.ebay.com/itm/New-Smart-Check-Digital-Breathalyzer-Accurate-Blood-Alcohol-Content-Tester-/161178082252
Digital Breath Alcohol Breathalyzer Analyzer Tester Test Detector Keychain ($6.99)
Digital breathalyser, perfect for safe driving
Displays "Caution" when result is within 0.02% – 0.05%
Displays "Danger" when result equals to or higher than 0.05%.
Displays "OFF" 10 s after finishing measurement then auto shut off in about 3 seconds
Measuring countdown: 10 seconds
PEGA 1800mAh External Battery Pack Case ($29.99)
2-in-1 External Battery Pack for iPhone 5
– 1800mAh external battery pack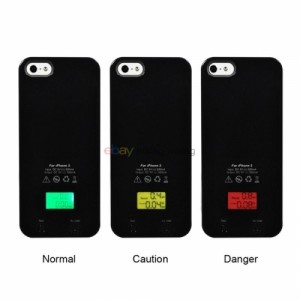 – Build-in Alcohol Breathalyzer
LCD Digital Display and Colored Backlight Screen
– 3 Colors backlight indicate different alcohol levels
(Green for Normal, Yellow for Caution, Red for Danger)
– Make detection more ocular & more efficient
Unique Alcohol Detector
– Effectively identify cigarettes, coke,coffee smells from alcohol
– Prevent non-alcohol gas to interfere the result
Voice Alarm
– When alcohol level reach danger level,the buzzer will alarm to warn you
Build-in ON/OFF Switch
 Digital Breath Alcohol Tester Breathalyser Analyzer Detector ($16.99)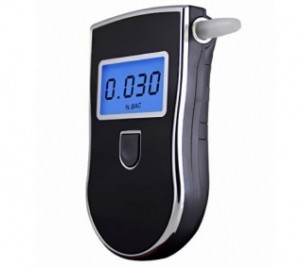 LCD blacklight: Blue
Sensor: Advanced flat surfaced alcohol sensor
Warm-up time: Within 10 seconds
Respond time: Within 5 seconds
Operating temperature range: 5~40