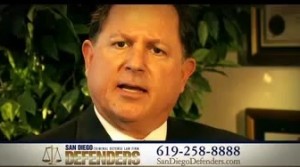 Local Attorneys with the Best Dismissal Rate vs. Prosecutors Hire Us When Arrested
It is true that a person charged, arrested or given a ticket should hire a local lawyer in the San Diego area. There are many instances when a tourist (or their son or daughter) from another state, like Arizona, is vacationing and finds themselves charged with a DUI VC 23152, petty theft PC 484, or simple possession of prescription pills HS 11350. Naturally, a person wants to hire the lawyer with "the best dismissal rate" or "best record" for these types of offenses. But who can make that claim? We at San Diego Defenders will be honest and tell you that nobody can make that claim with honesty and integrity. It is a great sales line, but the honest truth is that there is no governing body, association, club or entity that keeps track of dismissal rates. The truth is that the term dismissal implies that the case is completely dropped to most people hiring an attorney. The truth is that lawyers that advertise that way are referring to one of the charges being dismissed in a case that has multiple charges.
For instance, a DUI is generally charged as a driving while impaired which is VC 23152 (a) and driving with a BAC of .08 or greater which is VC 23152 (b). Unless a person goes to trial and is convicted of both counts, I cannot think of a time when I did not get one of DUI charges dropped. Can I now say that San Diego Defenders has the best dismissal rate in all of California? No, I will not make such a claim. However, I will tell you that San Diego Defenders Daniel Smith and associate, Jon Pettis have the one of the best reputations for defending you in a criminal misdemeanor case for affordable rates. We are known to live by our motto to "leave no stone unturned and challenge any questionable act by the police unchallenged".  The DA knows our reputation and respects us for it. In fact one of the best compliments I ever received was from a prosecutor that said he would honestly hire San Diego Defenders if he were ever arrested for a DUI. Why, I asked? And he replied "because you guys never give up!"  I am going to take that as a compliment. I guess our new slogan could be "The Law Firm that Prosecutors Hire if They are Arrested".